About
School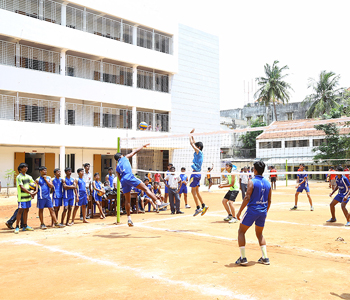 The Alagappa Schools had its inception in M.Ct.M. Preparatory school in 1954. Declared open by the then Governor of Madras Shri S. Prakasa, the school was nurtured by the Asoka Trust under the aegis of Padma Bhushan Dr. RM. Alagappa Chettiar. In 1982 it was upgraded into a high school and in 1989 into a Higher Secondary school through the initiative of Dr. Mrs. Umayal Ramanathan, the distinguished daughter of Dr. RM. Alagappa Chettiar. Our Trustee RM. Vairavan, is keen on taking all efforts to make the institution a land mark in Chennai. Situated in the heart of the city over sprawling acres the Alagappa Schools has grown over the years into a full-fledged co-educational institution appropriately catering to the aspirations of the public to provide a sound education to their wards. We also have the Alagappa University study center in our premises for the undergraduate, post graduate and several diploma courses. A new and attractive addition is the Umayal Play School and Day Care Center which is a haven for the tiny tots.
About
Our

Achievements

As we enter our "Golden Jubilee" year, we look forward to scaling greater heights and finding new scope and dimensions in our voyage towards a meaningful and satisfying world. Success is not our ultimate destination but a milestone on the way of life. Therefore we march confidently and with perseverance.

"Better your Best" is our motto and in keeping with this we have been consistently securing centum results with several distinctions in the public exams for the X and XII. We firmly believe that every child is special in its own way and every individual is encouraged and moulded into worthy citizens that the country will be proud of. Apart from academic excellence, we strive for the all round development of the child in the cultural, social and sports fields too. We have organized several clubs-notably the Junior Red Cross, NSS, Scouts & Guides and Road Safety Patrol to instill a sense of social service and civic sense in the child. In sports our players are regular winners in the Kho-Kho, Kabaddi, Volley ball, Judo and Athletic tournaments at the Zonal level. We have had State level representation in Shot put event. Regular summer courses in computers and sports are conducted in the school premises. We are proud to say that our students are occupying key posts in established concerns and serving humanity world-wide.
Objectives
Invigorated by the motto of our institution Better Your Best, our institution relentlessly strives towards attainment of confidence, affection, humility, knowledge, wisdom and courage in our children. We equip them to the hilt to meet the stringent demands in life and also mould them as citizens who will do our country proud. The extra-curricular programs are given their due share of attention to ensure a well-balanced development of the student.
Why are we
special?
The following factors make us stand apart.
Modern Computer Centre
Well-stocked library for Children
Fully-equipped laboratories
Highly qualified and experienced faculty
Improved language learning techniques
Teaching primary children through play techniques
Remedial coaching for slow learners
Counseling is provided by a qualified counselor
School Toppers